With six salt caves to experience in the Buffalo area, salt therapy has seen a resurgence
By Amanda Jowsey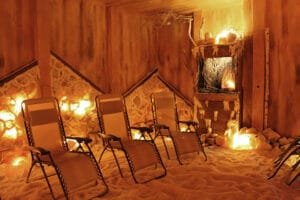 The air feels and smells crisp and clean. The space feels safe, calming and pure. Glowing pink Himalayan salt lamps line the walls. Pebbles of soft salt cover the floor.
When you enter the quiet and dimly lit room, it feels like walking on a sandy beach at sunset and entering a cave beneath the rocks.
There are all kinds of health trends these days. From special diets and exercise plans to holistic spa treatments.
It seems that physical and mental wellness are at the top of our lists, especially during a pandemic.
One of the latest growing trends has been around for centuries but has gained more recent attention for its healing effects. Salt cave therapy not only allows you to relax in a beautiful, serene environment, it also improves lung function and heals troubled skin.
Halotherapy, or dry salt therapy, is an all-natural treatment with benefits shown to help several ailments such as asthma, allergies, sinus infections, ear infections, and the common cold.
It helps with certain skin conditions like eczema, swelling and inflammation, acne, rashes, and psoriasis.
There are six salt caves to experience in the Buffalo area. Each place differs in its own way, but they all share the same goal: to bring this therapy to the community and help people find natural ways to improve their quality of life.
AURA Salt Cave and Wellness is Western New York's first halotherapy center. Kelly DeBerg opened in 2017 and has made it her goal to focus on providing holistic therapies and products to help people return to a natural state of wellness.
"Our salt cave has about 22,000 pounds of salt brought in from Poland and is made to look like an actual salt cave," DeBerg said.
The halogenerators used in these salt caves grind pharmaceutical grade salt into aerosol and distribute it throughout the room. Inhaling these tiny particles removes toxins from the lungs, reduces inflammation in the respiratory system and widens airways.
"It's good for respiratory health, especially right now," DeBerg said. "Keeping your lungs and your respiratory system healthy and clean is a huge preventative."
The salt is antimicrobial, antibacterial and anti-inflammatory.
DeBerg explained the difference between pharmaceutical grade salt and food grade salt, and why it is crucial to use pure salt for halotherapy. "White table salt is toxic. They use anti-caking agents. They bleach it. All the minerals are stripped from it. Pink salt is really the truest form of salt. It is deep mined for purity and density. It has those 84 natural minerals that our body also has, so you can replenish some of that."
Pam Toole, owner of Southtown Salt Cave, is a registered nurse. She always leaned toward more natural options for health and wellness. After trying a salt cave for the first time with her husband, she knew that she wanted to offer this alternative to those struggling to get some relief.
"We need to bring this to our community," she said.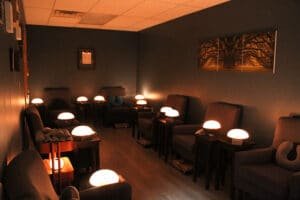 Halotherapy reduces stress, detoxifies your body, boosts immunity, increases energy and helps respiratory issues, Toole explained.
"It is a 100% natural, drug-free option for respiratory ailments, skin conditions and a healthy state of mind. Our cave is built with about 10 tons of salt imported from Poland and kept at 68-70 degrees. During the session you will sit in a reclining chair and relax. This is a great time to disconnect and meditate," she said.
Self-care is crucial to counteract the stress of our demanding lives. This therapy benefits both body and mind. "So many people, especially now, just don't unplug and don't give themselves time to relax and shut their brain off," DeBerg said. "We ask people not to bring their phones in. We want people to relax while they're here. Everything we do is based on relaxation and things that make you feel good about yourself."
Both DeBerg and Toole are natural healers and aim to improve the lives of others. They want to help individuals get back to a natural state of wellness. Each of these centers makes halotherapy a fulfilling and comprehensive experience. They, and each salt cave in the area, also offer services like detoxification with infrared saunas and salt lamps, aromatherapy, facials, massage, energy healing, and guided meditations.
"I like to think that when people leave here, they feel like they've done something good for themselves and they are leaving better than they came in. Whether they're doing some skin care, massage or respiratory treatments, they're going to feel good leaving," DeBerg said.
As with most treatments, the benefits are cumulative. Those suffering from chronic respiratory or ski related issues will benefit most from repeat sessions. Those with medical conditions should always consult a doctor before trying halotherapy.
Halotherapy brings you back to nature. It relaxes yet energizes your mind, body and spirit. It grounds you to something tangible and pure in this technological, sometimes surreal world we all live in right now.
A salt cave session is typically 45 minutes and the prices range from $30-$45 a session. Each center offers membership packages and special rates that can be found on their websites.
---
Where to Go
Serenity Salt Cave
2070 Eggert Road, Amherst, NY 14226
716-248-1007
serenitywny.com
AURA Salt Cave and Wellness
6429 Transit Road, Suite 1, East Amherst, NY 14051
716-276-9120
AURAsaltcave.com
Southtown Salt Cave
140 Pine St., Hamburg, NY 14075
716-648-5800
southtownsaltcave.com
Ellicottville Salt Cave
Halotherapy Spa
32 W. Washington St., Ellicottville, NY 14731
716-699-2068
ellicottvillesaltcave.com
Samana Salt Spa
704 Center St., Lewiston, NY 14092
716-246-2154
samanasaltspa.com
Tranquil Touch Wellness Center
745 Millersport Highway, Amherst, NY 14226
716-300-8355
tranquiltouchbuffalo.com
Photo: Room at AURA Salt Cave and Wellness, Western New York's first halotherapy center, opened in 2017. "Our salt cave has about 22,000 pounds of salt brought in from Poland and is made to look like an actual salt cave," says the owner, Kelly DeBerg.