It is the perfect place to relax, get tips for your own garden and enjoy the 'Gardens After Dark -Spring Flower Exhibit'
By Catherine Miller
There is something about nature that helps to make the world seem less complex and cold. If you, like me, are yearning for a glimpse of spring and want to take in a bit of botanical beauty, there is no better place than the Buffalo and Erie County Botanical Gardens.
Whether you want to get your hands dirty in a horticulture class, stroll along palm trees and feed koi fish or plan your spring garden, our local botanical gardens can whisk your mind away from winter's snow and transport you to a warm, vibrant leaf-filled oasis. A heavenly haven of greenery, the botanical gardens is truly one of the most beautiful destinations in our area and worthy of a visit to relax, reflect or meditate.
A living museum, the Buffalo and Erie County Botanical Gardens was designed and built in the late-1800s and stands within South Park, one of the Olmsted Park system sites. It is contained by a pedestrian walking path and outdoor gardens.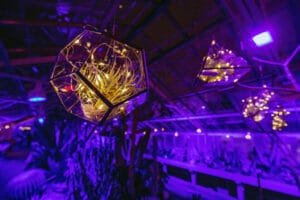 Within the Victorian-styled glass building dwells hundreds of botanical species ready to behold. The gardens provide a relaxing respite from our hectic worlds. As you stroll though the various exhibits notice the climates and cultures change around you. Travel the Asian rainforest and aquatic gardens, and then wander into the Florida Everglades and straight into the Panama cloud forest. You can figuratively go around the world in 80 minutes.
New to the gardens is the Gardens After Dark -spring flower exhibit" which will feature colorful tulips, hydrangeas, hyacinths and daffodils. Each display is basked in tinted lighting to create a meditative aura. It's a perfect family event for date-night or place to take a leisurely stroll on your own. Your self-guided tour can focus on relaxation, romance, or inspiration.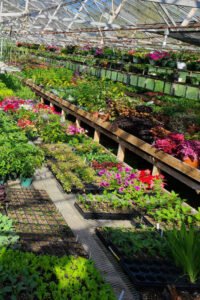 "The Gardens After Dark exhibits utilize upward and overhead lighting techniques to create a unique effect in the gardens," said David Swarts, president of the Buffalo and Erie County Botanical Gardens. "The result is both soothing and psychologically calming. We are pleased that the exhibit has done so well."
The Botanical Gardens of Buffalo and Erie County has risen to the challenges of the pandemic. Noting that nature has an innate comforting effect, especially in time like these, the gardens remain open seven days a week for both day and evening visits, as its spring flower exhibit unfolds. They offer nature-based art classes, make-it and take-it workshops, children's events and botanical demonstrations.
If you can't make the on-site class, fear not. The gardens offer virtual group programs and student workshops online, making it a perfect change-of-pace for home-bound and home-schooled individuals.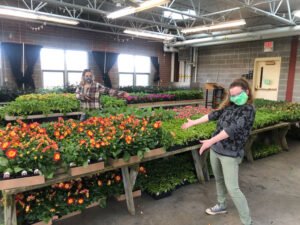 If you've been thinking about giving your backyard garden oasis a fresh look the Buffalo Botanical Gardens has got you covered at home as well.  Its great plant sale is now under way and better than ever. A way to increase the botanical beauty of your garden, the great plant sale is a yearly event that allows you to order a vast array of trees, shrubs, perennials and hanging baskets from now through mid-April. Pick-up times are scheduled at the beginning of May, just in time for Mother's Day and planting season.
Other upcoming events include Arbor Day tree tours and the Fairy Festival, complete with a fairy filled scavenger hunt. Visit the garden's website for dates, tickets and additional information. Reservations can be made online at www.buffalogardens.com and the gardens continue to host birthday parties and wedding events.  As expected, masks must be worn at all times while inside the buildings. While touring the gardens note the arrows on your path to adhere to distancing guidelines.
Botanical gardens around the world are largely known for their mental health benefits. A combination of beautiful settings, natural sunlight, quiet surroundings, oxidized air and natural scents aid to relieve anxiety and stress and help with depression.
We are fortunate to have one of the finest botanical gardens in our own backyard. If you haven't visited the Buffalo and Erie County Botanical Gardens in a while you are in for a beautiful and warm, relaxing retreat.
Photos: Photos of the Buffalo and Erie County Botanical Gardens courtesy of Ben Read.