Locals find tennis is a good way to stay active, social
By Jana Eisenberg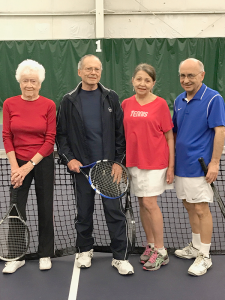 Judy Behr, 74, and her husband Dennis, 75, have a tennis court on their Williamsville property — while their kids were growing up, no one in their family ever properly used it.
Then, about 20 years ago, Dennis signed up for a tennis class at his local community center. He was soon hooked, and, while Judy was reticent about being a beginner and taking lessons, she soon followed suit, and fell in love.
Judy Behr now not only plays tennis, she organizes it for others to play, too. Her group plays year-round, indoor and outdoor, at the Miller Tennis Center.
"My group has grown from four people in 2002 to around 23 now," said Judy. "I have friends who started tennis when they were in their 60s, and now they play several times a week. Playing with the group is fun and competitive. We often go out for coffee afterwards, and have tennis parties, too."
According to the USTA, tennis has the potential to improve people's balance, coordination, speed, strength, flexibility and heart health. In addition, a common theme when speaking to seniors who play organized tennis is the social aspect — the camaraderie and fun.
Tennis can be both beneficial and fun at any age, said Todd Miller, owner of the Miller Tennis Center in Williamsville. "Tennis is a lifetime sport," he said. "Physically, it's fun. There are not too many activities you can enjoy and still get a great workout into your 80s and beyond."
Miller said he notices two things about older people who play regularly. "They are all very fit, and very sharp. It's great to keep going, even if it's not the same tennis you played when you were in your 40s and 50s."
Places like Miller Tennis Center and Village Glen Tennis Club, also in Williamsville, offer memberships, court time, one-on-one and group lessons and other options for people of all ages to learn or improve their skills and game. The tennis groups are organized independently; many use these facilities.
Tom Kalman, a retired professor, started playing later in life, mostly socially. Now, in addition to tennis several times week (especially during the summer), he swims, and works out with a personal trainer, doing Pilates exercise. He plays tennis with Behr's group.
"Playing as part of a group is uplifting; it combines exercise and social activities," said Kalman. "You get to know and talk with very nice people. It's a positive experience that I believe contributes to my well-being. It's a blessing being able to play at 81 years old."
Of course, people can and do get injured or develop health issues when playing any sport.
Kalman said he avoided major injury when running into someone, and also that he has a chronic rotator cuff tear. "Because of my age, this injury is difficult to heal," said Kalman. "I compensate by exercising; building up the muscles around it. I'm not incapacitated; I continue to look forward to and enjoy playing. The benefits outweigh the negatives."
Judy Behr agrees that any risks are worth the gains. When she had a shoulder issue, she went to physical therapy three times a week until it improved, and said that even when people have surgery, many come back afterwards. "Tennis is addicting, in a good way," she said. "It gives you a lot of energy, and you feel so good afterward."
Faye Lueth has played tennis most of her life: starting when she was about 10, as a child in England, then as an adult living in Toronto and Clarence, and now as an 89-year-old. During the warmer months, she plays at friends' outdoor condo courts; she also plays regularly at the Village Glen, and serves as a "sub" in Behr's group at Miller when she's available.
"I love tennis!," Lueth said. "All through the years here, the people I've played with are so nice. Another important thing is that we're not dead serious; we want to have fun."
She and her husband, Werner, enjoy an active lifestyle, going to the Garden Walk, taking walks at Wendt Beach and in general choosing to be outdoors when they can.
Lueth hasn't been immune to the toll that time takes on a body. "I've had two partial knee replacements. I don't know why, but I'm still in pretty good shape. I can run, and do anything I want to do. Keeping active does it," she marveled. "When someone calls me to play, I just automatically 'hoppity skip' out of the house — it's part of my life!"
And remember that underused backyard court at the Behr's place? Judy Behr, her husband and their friends now play tennis out there all summer long.