Farmers Markets come to life in fall.  Best time to get tomatoes, apples, eggplants, melons and more
By Catherine Miller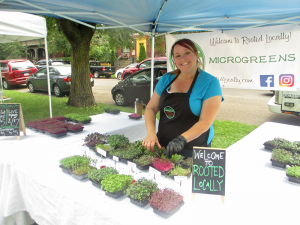 My summer calendar revolves around the local farmers markets. Plump red strawberries means that May has arrived and its time to start planning all those fun summer events. The yellow ears of corn abundant in August remind me that summer is in full swing and school is just around the corner and then there's September.
September is my favorite time to peak around the markets. The colors explode with the deep purple eggplants, crisp red apples, pastel melons and yellow- and orange-hued squashes. Ask any nutritionist and you will find that the kaleidoscope of colors that you can purchase at your local farmers market isn't just a visual masterpiece to your eyes, but beneficial to your health as well.
The colorful components displayed indicate carotenoids in your orange and yellow foods, flavonoids in the blue and red fruits and veggies, and chlorophyll in your favorite greens.
A good mix of colors in your produce also indicates a mingling of vitamins, minerals and antioxidants that can benefit your health. And, lucky for us, our area seems to have a farmers market in nearly every neighborhood, making a visit to the market that much easier to access local produce as the fall harvest rolls in.
Eden-based Weiss Farms, which provides their fresh local produce to no less than six local farmers markets, promises heirloom tomatoes in abundance this fall, along with apples, eggplant and their famous melons. While these traditional favorites can be found at the market, our local farmers markets have stretched to include unique items. Check out Rooted Locally in Buffalo to find a lavish array of microgreens.
"Microgreens are small shoots of salad vegetables such as arugula, broccoli and beetroot that are packed with nutrition and are great in salads, on sandwiches and in smoothies," said owner Lisa Brocato. "We have a variety of types each week including basil, kale and sunflower."
The microgreens come in small containers that are harvested with scissors and easily added to your meal for a nutritional punch. Along with microgreens check out the pasture raised, dry aged meats, organic mushrooms, and locally made veggie burgers, all chock full of vitamins and nutrients.
Not only are the local markets a great way to support your local farmers, but the neighborhood farmers markets have become a community meeting place, and a great source of social interaction.
"Now in the fourth year of operation the South Buffalo Farmers Market has quickly become one of the favorite community gathering spots for the summer," said Buffalo Common Council member Christopher Scanlon. "Set in Cazenovia Park, one of the jewels of the Olmsted Park System, the market runs though the end of September. In addition to fresh meat and produce from a variety of local famers, the SBFM offers unique local favorites like Public Espresso, Duke's Donuts, and the Pasta Peddler. The South Buffalo Farmers Market also offers free adult yoga classes, live music and a variety of weekly special events, including a kid's day, craft fairs and an end-of-the-year cookout for the neighborhood."
Most of the markets participate in the Double Up Food Bucks program allowing SNAP recipients to extend their benefit amount and get double the produce and food products.
---
Farmers Markets. Where They Are
• Buffalo Country Market –Main Street and Court Street. 10 a.m. to 2:30 p.m. Tuesday and Thursday. Situated on Main Street in downtown Buffalo, this market is known for people-watching during the business lunch hour. It has a great array of flowers that you can easily take back to the office or add to your home décor.
• Clarence – 10717 Main St., from  8 a.m. to 1 p.m., Saturdays.
• Clinton-Bailey Market – 1517 Clinton St. Open every day. From 7 a.m. to 6 p.m. Opens at 6 a.m. Saturdays. A variety of the best produce in the area and winter hours as well.
• Elmwood Village – Elmood Avenue at Bidwell Parkway, 8 a.m. to 1 p.m. Saturdays One of the longest seasonal markets in the reagion, you will see the die-hard vendors still setting up shop in November, weather permitting.
• Hamburg – Municipal Parking lot.  From 7:30 a.m. to 1 p.m., Saturday
• Kenmore – The Village Green. From 9 a.m. to 1 p.m., Sundays.
Featuring local honey and syrup, baked goods and more. Artisans, yoga and music throughout the season.
• North Buffalo Farmers Market – 1113 Hertel Ave. 3pm – 7pm. Thursdays.
• North Tonawanda – Payne and Robinson streets. From 7 a.m. to 1 p.m., Tuesday, Thursday, Saturday.
• South Buffalo – Cazenovia Park,  9 a.m. to 1 p.m., Sundays.  Along with Weiss Farms and Desiderio's Produce, goers can find fun items like KupKates Bakery, local wines and even treats for your pup.
• West Seneca – Town Hall, 1250 Union Road, 4-7:30 p.m. Thursdays.
• Williamsville – Spring Street, 8 a.m. to 1 p.m., Saturdays.