By Deborah Jeanne Sergeant
Aging brings its own rewards—wisdom, experience and sense of accomplishment—along with a few challenges. With planning and a few community resources, older adults can mitigate the effects of these challenges as they age.
1. Low Muscle Tone
Losing muscle is not merely a vanity issue. It can contribute to falls and frailty. It begins gradually in middle adulthood but can occur more rapidly if an older adult has been laid up because of sickness or injury. To prevent falls, it is important to maintain muscle tone through resistance activity and bodyweight exercise, as well as engaging in activities that challenge balance. Activities such as walking, yoga, lifting weights and swimming can help.
"I've been seeing falls," said Francine Intorre, adult-gerontology nurse practitioner program co-coordinator and clinical assistant professor at UB. "There's always a risk for a host of reasons."
She wants more people to seek support in their homes such as a home and personal assessment by a physical therapist and installation of any helpful equipment like grab bars. Unfortunately, health insurance typically covers interventions only after an incident.
2. Polypharmacy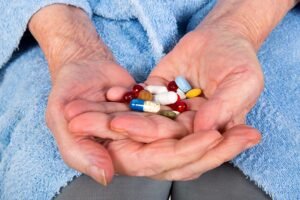 According to Georgetown University Health Policy Institute, people aged 50 to 64 take an average of 13 prescription medications. That shoots up to 22 by age 80.
Some of these medications may be attributed to polypharmacy: taking unnecessary mediation. Polypharmacy causes unnecessary side effects and expenses to patients.
"I've seen providers trying to reduce the medication they put people on," Intorre. "It helps prevent side effects and better management overall. A simpler regimen means less risk of confusion about medication."
Consulting with a pharmacist or primary care provider can help reduce unnecessary and outdated prescriptions.
3. Mental Health Issues
"What I've been seeing a lot is still isolation," Intorre said regarding the pandemic. "A lot have experienced a death of people younger than them and their peers. It's a little disheartening when everyone else has passed on."
She wants the medical community to not only take care of seniors' physical health but also their emotional health as "it's a big part of quality of life."
4. Medical Fatigue
Decades ago, the family doctor took care of nearly every health need. However, in today's specialized medicine, many seniors see a different specialist for each condition and bodily function.
"That does take a toll to see so many specialists for chronic conditions," Intorre said. "They're fatigued with having five or more specialists such as diabetes, a skin condition, neurologic issues like dizziness."
Multiple doctor-patient relationships can also mean that information does not always transfer with electronic medical records if physicians belong to different medical systems.
5. Poor hydration
Drinking enough fluids is vital to good health—and that does not necessarily mean chugging eight glasses that are 8 ounces each. The current rule is drinking half the body weight in ounces daily, such as a 150-pound man would drink 75 ounces each day.
"Sometimes I suggest if I'm worried about electrolytes, G-2 or Gatorade unless the person is diabetic," said Mary Jo Parker, registered dietitian and clinical nutritionist in private practice in Williamsville. "I'll remind them there's high water content in fruits and lighter vegetables and things like broths and soups."
6. Nutritional deficiencies
Poor eating in older adults can happen for a variety of reasons. It is important to maintain a balanced, varied diet because "most of the things they have health concerns about — cognitive decline, osteoporosis and chronic pain — all of those can be positively affected by proper diet," Parker said. "It can and will make a difference if they're eating more plant-based, traditional Mediterranean type of diet."
She added that food insecurity can contribute to nutritional deficiencies, as accessible, inexpensive food is often less healthful. Stocking up on healthful frozen and shelf-stable foods can also help, such as ready-to-steam microwavable vegetables and nut butter.
"Protein and vitamin D sources are ones many older adults are low on," Parker said. "Or if they don't eat much meat, they may not have enough zinc or perhaps copper or B6 or B12 if they don't get enough animal products."
Meat can be challenging for some older adults to afford and in some cases, challenging to chew.
Justine Hays, registered dietitian and senior Snap-Ed nutritionist for Cornell Cooperative Extension Niagara County in Lockport, recommends slow cooking cheaper, tougher cuts of meat as "it makes meat more tender and flavorful. Eggs are also a good, inexpensive source of nutrients. They're so easy to fix and eat."
Legumes, nut butters, canned fish and canned chicken are also good, inexpensive sources of nutrients.
Hays encourages older adults and their families to look into congregant meal sites, grab-and-go meal boxes, Meals on Wheels, food and meal kit delivery services and other resources listed on the Erie County Department of Senior Services site, www3.erie.gov/seniorservices. The NY Connects program at 716-858-8526 can also offer tips on area supports.
7. Routine screening and vaccines
"Follow medical advice for recommended screenings for cancer, Type 2 diabetes and high blood pressure," said Kara Kane, public information officer for Erie County Public Health.
Vaccines are not just for infants and children. Kane said that older adults also need them as directed by their healthcare providers. These include periodic COVID-19 and annual influenza.
"COVID-19 and flu are responsible for thousands of hospitalizations among older adults and the risks for moderate and severe illness are higher for older adults," Kane said.
Some older adults may benefit from pneumonia vaccine.