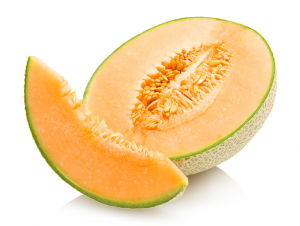 Some fruits are so fragrant and luscious and yummy that we don't think twice about their nutritional value. For many, including me, a cantaloupe is just that sort of fruit. Oh, to sink your teeth into that sweet juiciness: Who can blame us for forgetting that it's a nutritional powerhouse?
Orange-fleshed cantaloupes are excellent sources of beta-carotene, which the body then converts into vitamin A. Essential for growth and healthy vision, vitamin A helps maintain the immune system and also acts as an antioxidant, protecting our cells from free radical damage. A study by the National Eye Institute showed that certain antioxidant vitamins (A,C, E) and zinc helped to slow the progression of advanced macular degeneration by about 25 percent over a six-year period. An average serving of cantaloupe (one cubed cup) more than meets our daily needs for vitamin A.
Vitamin C seekers will be thrilled to know that a cup of cantaloupe boasts nearly 100 percent of our daily needs. Vitamin C, which contributes to collagen synthesis and development, plays an important role in wound healing and in maintaining healthy, resilient skin. (Wrinkles, watch out!) And although this immune-boosting vitamin can't prevent colds, research has revealed that loading up on this nutrient may help shorten the time you're sick and reduce the severity of your symptoms.
Potassium-rich cantaloupes are great for hearts. A must-have mineral, potassium helps trigger your heart to squeeze blood through your body. It also helps your muscles to move, your nerves to work, and your kidneys to filter blood. While potassium doesn't treat or prevent heart disease, it does help control blood pressure and also enables your heart to beat in a healthy way. An average serving of cantaloupe has about as much potassium as a banana.
Nutritious cantaloupes are low in fat, cholesterol, sodium and calories (about 50 per cubed cup), and offer a modest amount of fiber: 6 percent of our daily needs. As for sugar, it has less than a banana, more than strawberries and about the same as a peach.
Helpful tips
Select a cantaloupe that feels full and heavy. Ripe cantaloupes sound dull (not hollow) when you tap the rind with your finger. Smell the end opposite from the stem end: it should smell fragrant, but not overpowering. Store your ripe cantaloupe in the refrigerator for three to four days; cut cantaloupe should be eaten within three days. Unripe cantaloupe can be left out at room temperature for a couple of days to soften. Cantaloupe needs to be washed before slicing because the skin can harbor harmful bacteria; but wait to wash it until just prior to cutting.
Savory Cantaloupe Salad with Feta and Basil
½ cantaloupe, seeded and cut into bite-size cubes
1 cup cherry tomatoes, halved
1 garlic clove, minced
¼ cup minced shallots
1 small jalapeno or Fresno chile pepper, seeded and finely chopped (optional)
½ cup fresh basil, chopped or cut into slivers
Zest from 1 lime
1/3 cup crumbled feta or goat cheese
2 tablespoons lime juice
1 tablespoon olive oil
½ teaspoon kosher salt
¼ teaspoon coarse black pepper
½ cup slivered almonds, toasted
In a large bowl, combine the cantaloupe, cherry tomatoes, garlic, shallots, jalapeno or Fresno pepper (if using), basil, lime zest, and crumbled cheese. Gently mix.
In a small bowl, whisk together the lime juice, olive oil, salt and pepper. Pour over the cantaloupe mixture and toss lightly. Garnish with toasted almonds and serve immediately.
To toast almonds: Preheat oven to 350 degrees. Place almonds on a baking sheet and bake for 7 minutes.
Anne Palumbo is a lifestyle columnist, food guru, and seasoned cook, who has perfected the art of preparing nutritious, calorie-conscious dishes. She is hungry for your questions and comments about SmartBites, so be in touch with Anne at avpalumbo@aol.com.